Small cartons reflect the current development of the corrugated packaging industry. Compared with developed countries, although China's corrugated packaging industry started late, it has grown rapidly. In fact, the industrial production level of domestic corrugated cardboard is not low. With the rapid promotion of the Internet and logistics business, the express delivery business of e-commerce channels alone consumes tens of billions of cartons each year, and it is still increasing at an annual rate of 10 billion pieces.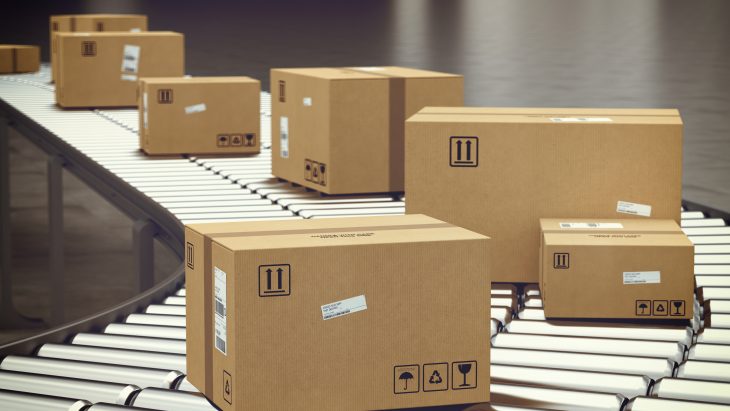 In order to meet the rising demand for cartons, printing companies must greatly increase their production capacity, reform production methods through digital production and intelligent management to get rid of the inefficient mode of relying on intensive labor production, and introduce advanced printing equipment and operating systems to achieve high efficiency, Intensive and integrated full-process automated production.
FLORA SPC-1800 digital inkjet corrugated printing machine is the development of corrugated packaging printing technology with deep research and development experience and foundation after Runtianzhi has been deeply involved in the field of digital printing for many years. Taking full account of the current market demand for small batches, individualization, and short cycles, Runtianzhi provides printing companies with a corrugated packaging printing solution that balances cost and efficiency and has environmental benefits.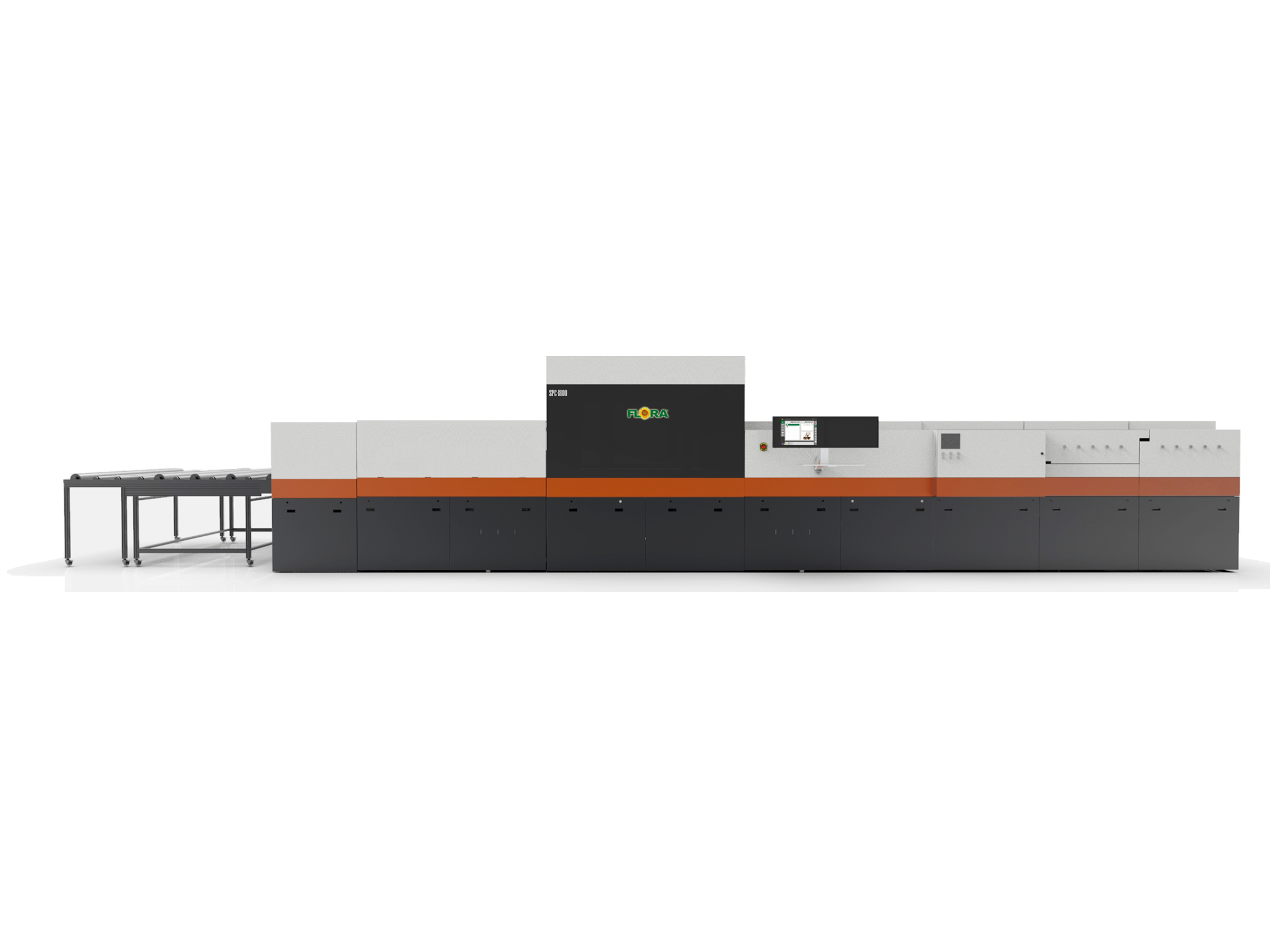 FLORA SPC-1800 digital inkjet corrugated printing machine is a comprehensive digital printing equipment promoted by Runtianzhi in the field of corrugated packaging. The whole machine includes automatic feeding, printing, glazing, drying unit, etc., and has excellent performance in terms of productivity, color, precision and intelligence:
---
A large number of consumer goods and bulk items for sale need the structural strength of corrugated packaging design as a carrier for sales in the retail environment, and at the same time, they need to meet the needs of brand owners to promote and disseminate relevant information and brand logos for any product in the sales process. This means higher requirements for packaging printing accuracy.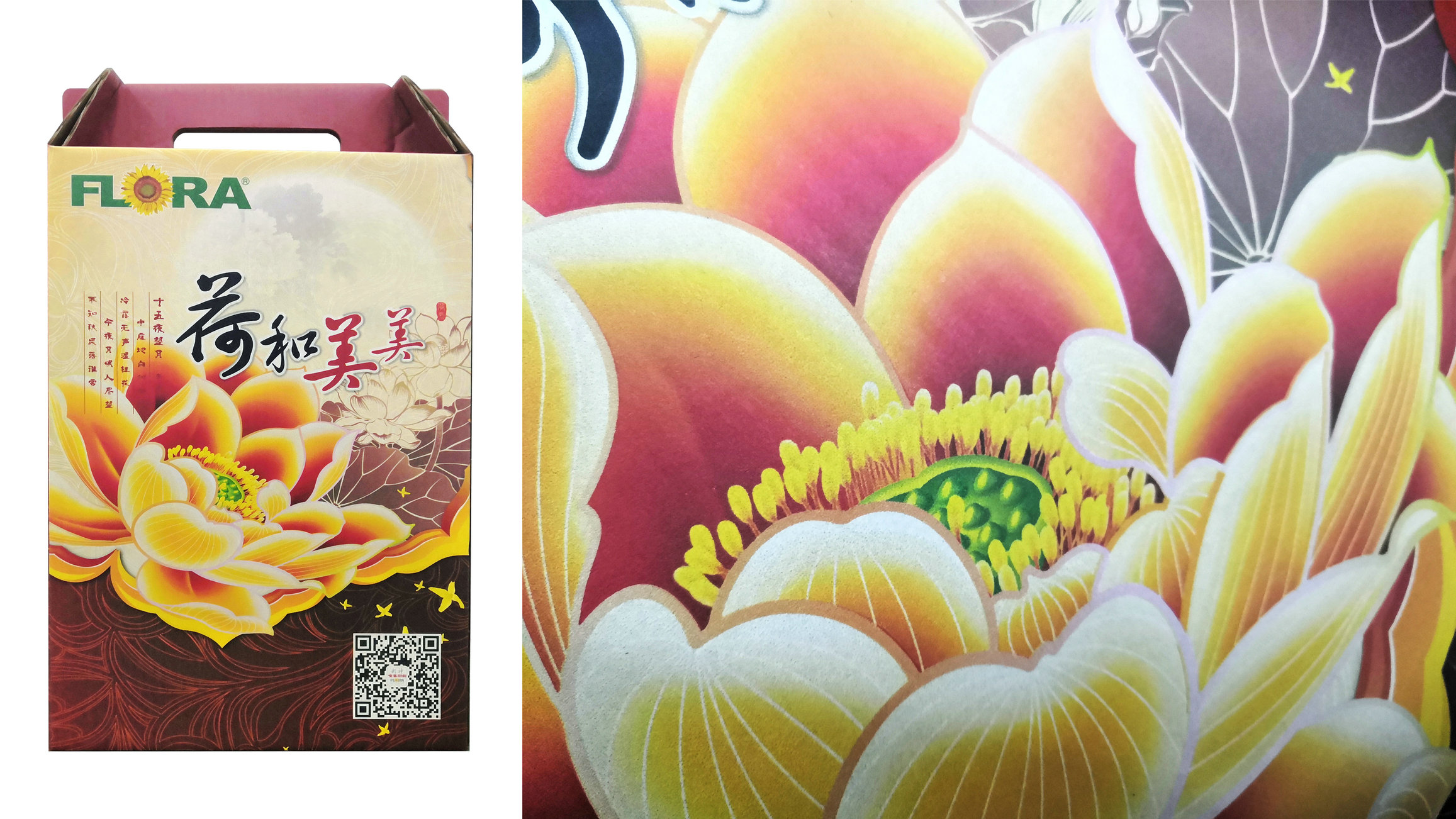 Equipped with industrial grade on-demand piezoelectric nozzle
Printing accuracy can reach 1200dpi
Minimal 5pl ink drop, restore high-quality images
Outstanding printing effect and higher cost performance
---
The traditional production model is difficult to meet the rising market demand, prompting companies to actively seek production factor upgrades and strategic transformations. The application of digital printing technology can help printing and packaging companies win more competitive orders.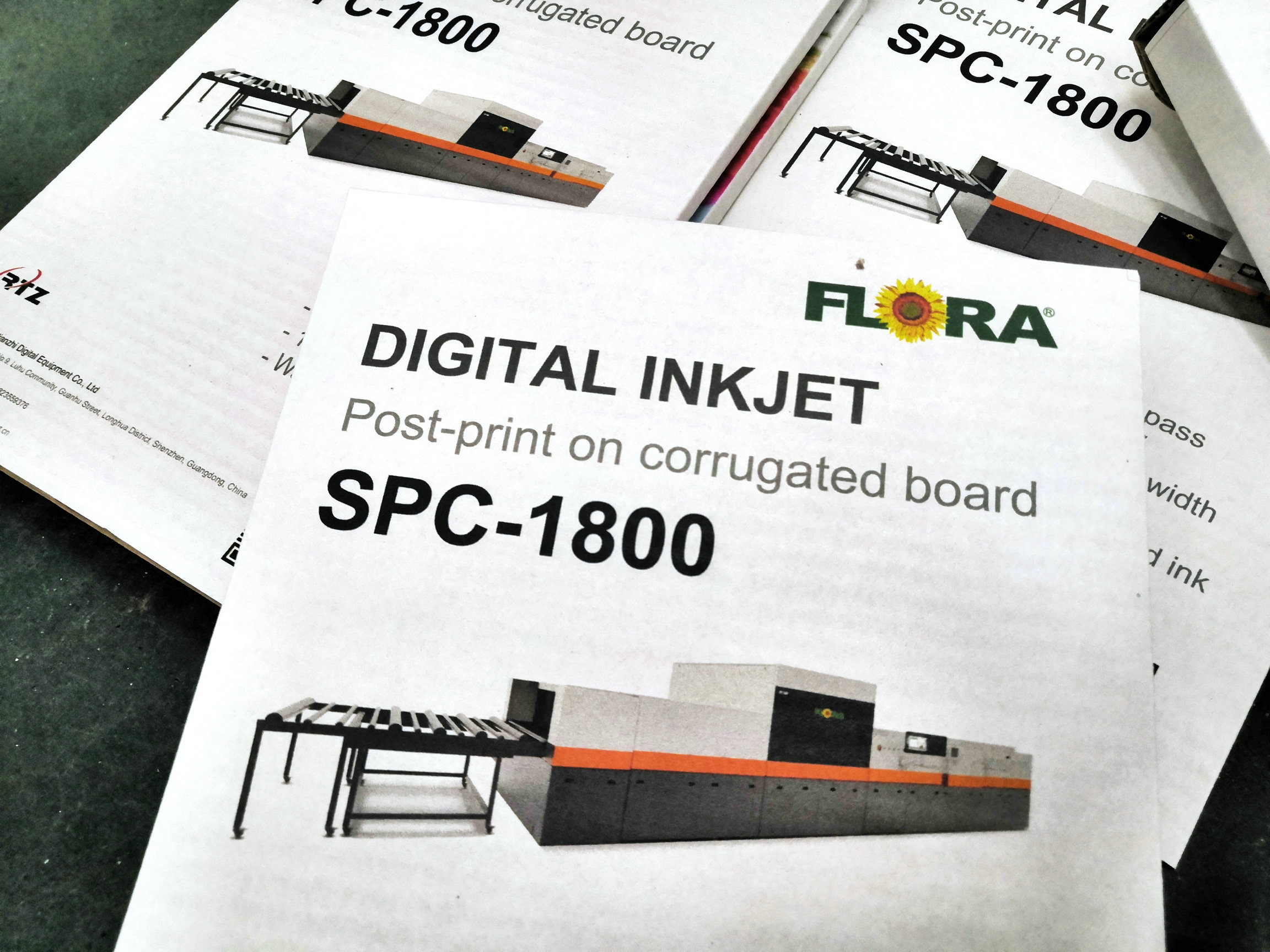 In high-speed mode, the line speed can reach 150 meters per minute
Short preparation time, no plate making, shortening the process
One-button automatic cleaning of the nozzle to ensure continuous production of the machine
Equipped with automatic feeding unit to reduce labor and increase productivity
Non-contact printing, no material damage
---
Traditional offset printing and laminating require two processing processes. Taking advantage of digital printing's close integration with the network, enterprises can realize intelligent integrated management mode through networked control, unify production standards, and simplify production processes. Meanwhile, the use of digital technology to achieve instant order acceptance and production with customers, reduce inventory, and quickly respond to the market is the goal pursued by packaging companies.
Seamless order change, print on demand, minimum order
The intelligent system is easy to operate, and online control saves time and effort
Online monitoring of material delivery, automatic alarm for paper jams, safe and secure
Post-processing supporting equipment can be networked
Real-time statistics of printing area, number of completed orders, ink consumption, convenient for customers to control operations and calculate costs
---
In the past, most of the corrugated paper packaging was used in simple transportation packaging, and the colors were basically 1-3 colors. However, with the development of the times and the widespread popularity of the Internet, about 30% of the corrugated paper types are used to print high-definition colorful graphics, and they are pasted onto cardboard. This fully highlights the market's demand for a wide color gamut for corrugated board printing.
Support standard CMYK, accurately restore colors
Equipped with 2 expansion channels, spot colors can be selected according to needs
Use water-based ink, better environmental performance
Equipped with glazing system, the color is more vivid, and the waterproof performance is good
---
Corrugated paper packaging, as the second largest type of packaging, can be used for both large-scale product packaging and small product packaging due to its structural strength.
Can be widely used in mechanical products, electronic appliances, food and beverages, gift toys, display stands, building materials packaging, etc.
Wide range of applicable materials, support coated cardboard, liner cardboard, yellow and white cardboard, etc.
Support large width cardboard processing (1900*2500mm)
---
It is different from the general use of large-scale production lines for large-scale output. Printing factories that are closer to the retail terminal mainly receive small and medium-sized orders, are more susceptible to market influence, and have a stronger demand for providing services such as product personalization, brand customization, and delivery time reduction.
Based on 20 years of successful experience accumulation, Runtianzhi designed a cost-effective digital printing solution for corrugated paper specifically for printing companies. Using non-plate printing and non-contact printing technology, it can achieve a printing speed of 50 meters per minute on materials up to 2.5 meters wide, reducing inventory and saving costs while printing on time and on demand, effectively helping customers improve their competitiveness, which is the best choice for medium-sized printing customers.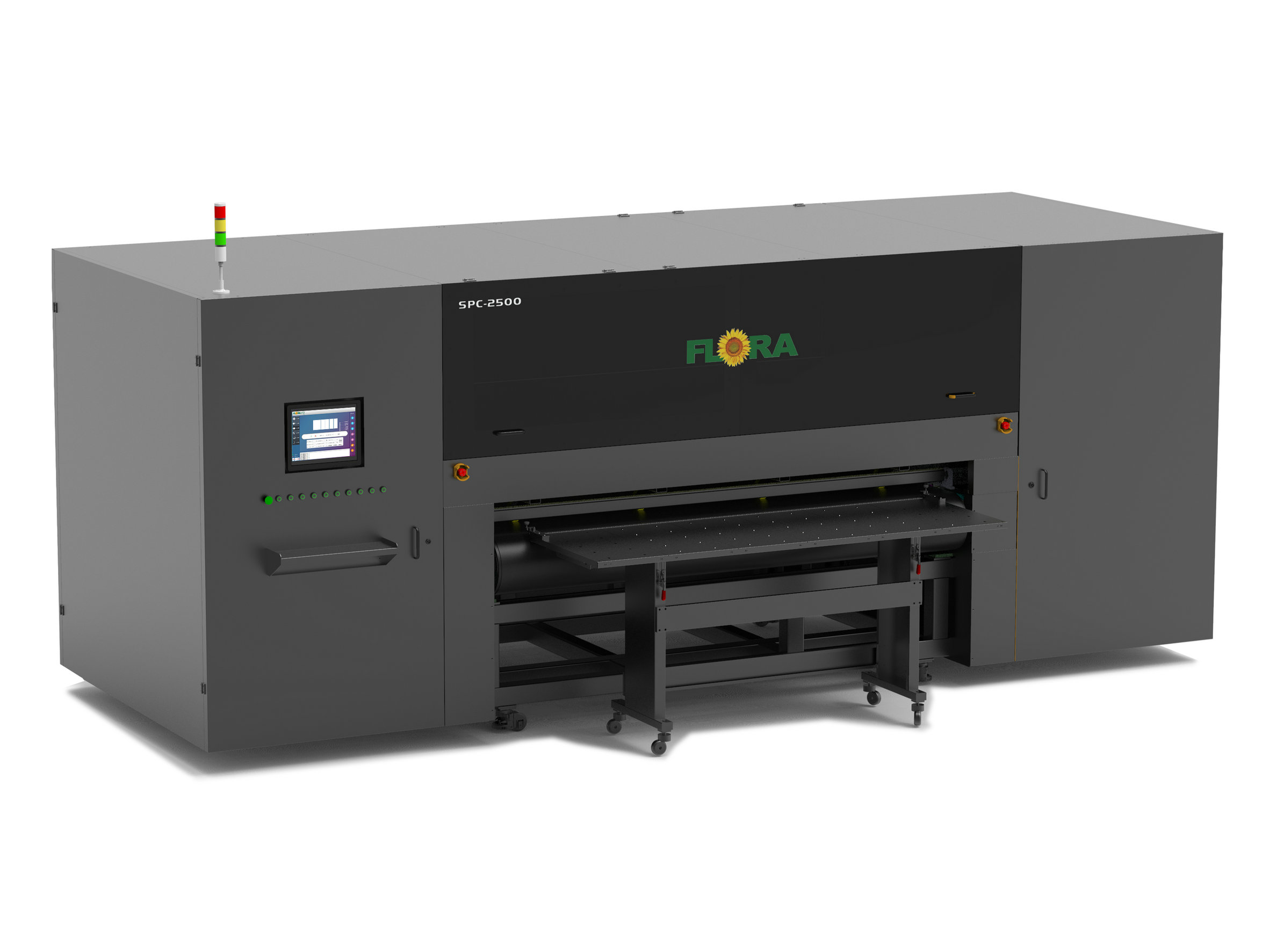 Using Single-pass technology, the maximum printing speed is 50m/min
Printing accuracy is 360dpi, support four-level grayscale printing
Standard four-color printing unit, accurate color, fine gradient
Two-line printing, support multi-image printing, printing on demand
One-key nozzle automatic moisturizing, ink circulation constant temperature control, to ensure continuous production of the machine
The whole machine is conveyed by belt, with strong suction, smooth paper feeding, and improved cardboard edge warping
Intelligent detection of paper stacking and curling to prevent scratches and automatically resume printing
---
In the current fast-changing market environment, challenges and opportunities coexist. How to integrate corporate resources and promote industrial upgrading is a big test for China's corrugated packaging industry. At the same time, higher standards of digital printing solutions are also required. In 2021, Runtianzhi will live up to its original aspirations, adhere to the concept of creating value for customers, with a sincere attitude, leading products, and efficient services, and win the future with our partners!
Contact us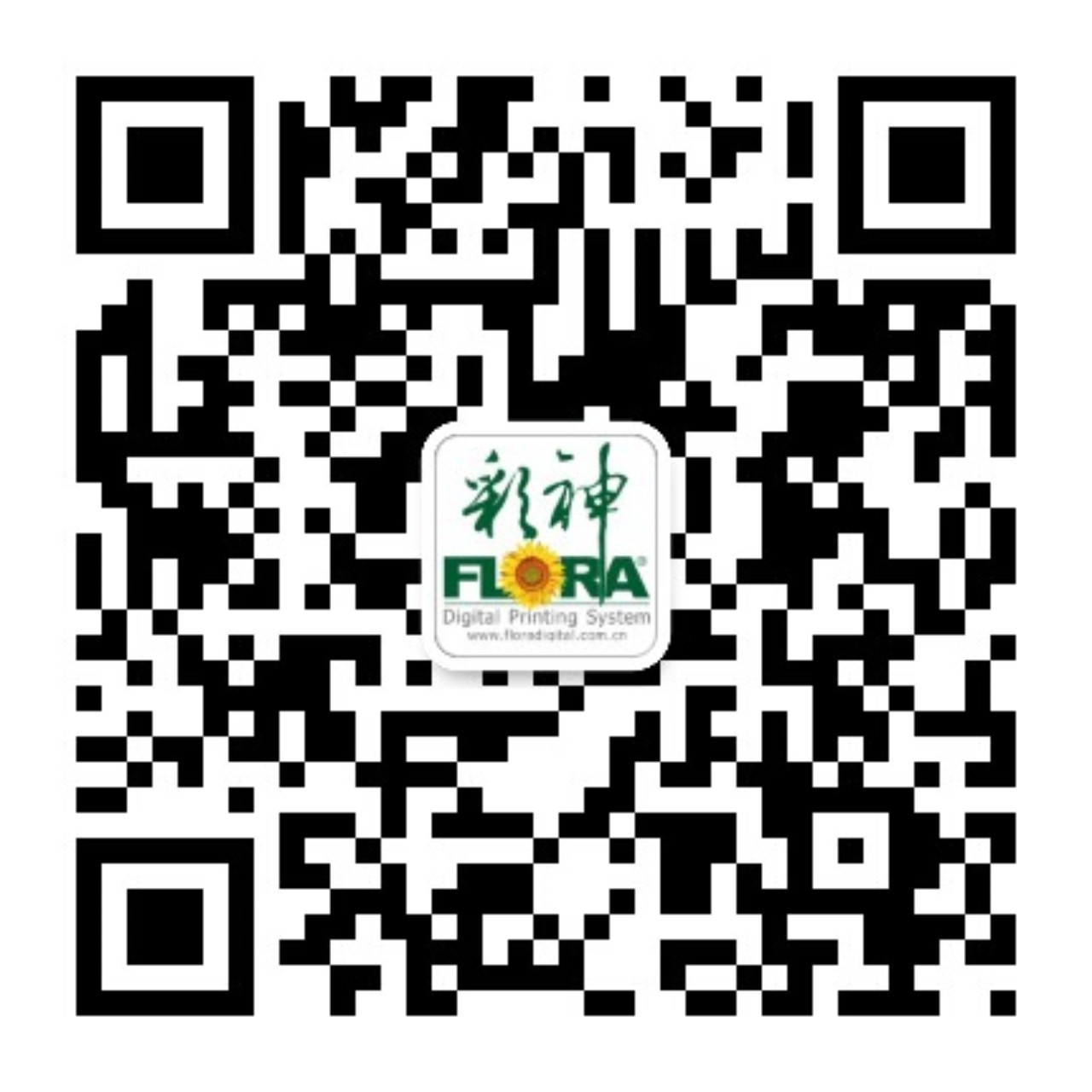 Professional digital inkjet printing equipment manufacturer
www.floraprinter.com